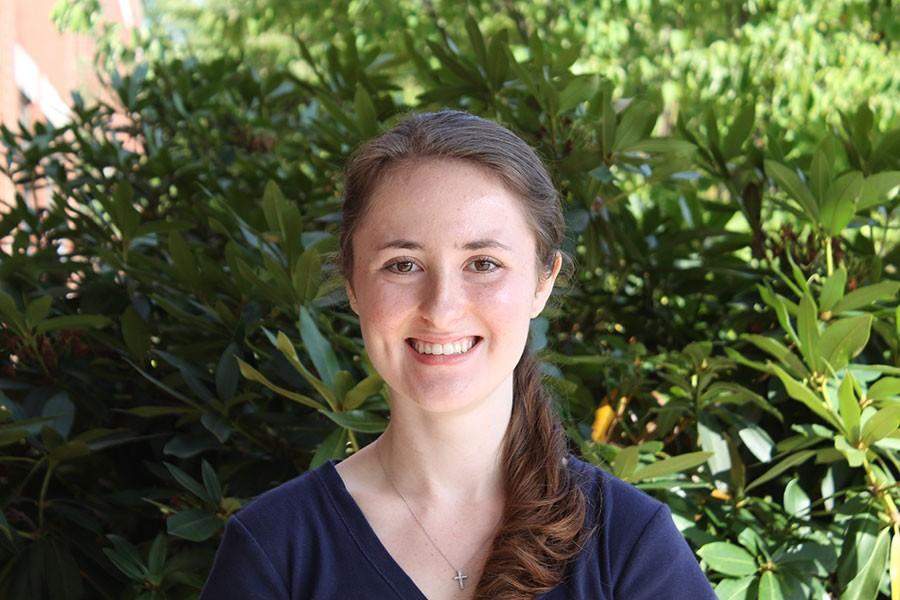 Nicole Poitras, a junior, is thrilled to begin her high school Journalism career. Outside of the newsroom, she is the manager of the varsity girls' volleyball team, the Vice President of the Spanish Club, and is heavily involved in HB's theatre and music programs.
Nicole dreams of going to college in Boston. She plans to pursue a career centered around writing, and possibly film and television production.
Nicole has dreamed of being on the high school paper since before freshman year. She was first published in the CavChron last year as a contributor. This year, she is the Arts and Entertainment Editor and the paper's first blogger. She is beyond excited to take on this pilot role for the paper. She looks forward to working hard and bringing her ideas to fruition.
Nicole Poitras, A & E Editor, Blogger
Jun 02, 2017

What can we do?

(Story/Media)

May 04, 2017

HB student musicians bring down the house at third open mic

(Story)

May 04, 2017

HBHS staff get engaged

(Story)

Apr 19, 2017

Donate Life: you can't take them with you

(Story)

Apr 14, 2017

Author Gloria Norris visits Memoirs class

(Story)

Mar 21, 2017

Spirit Week 2017

(Story/Media)

Feb 23, 2017

Honors choir on tour, day 5: a final shining night

(Story)

Feb 19, 2017

Honors Choir on tour, day 4: on the town

(Story/Media)

Feb 19, 2017

Honors Choir on tour, days 2 and 3: of concerts and competitions

(Story)

Feb 17, 2017

Students shine at HB's Open Mic Night

(Story/Media)

Feb 16, 2017

Honors Choir on tour, day 1: song and dance with the cast of Broadway's "Aladdin"

(Story/Media)

Jan 26, 2017

Lights, camera…overture?

(Story/Media)

Jan 09, 2017

One if by rock, two if by roll: British Invasion Night 2016

(Story)

Dec 09, 2016

"Alice" enchants and delights in weekend run

(Story)

Nov 30, 2016

He's with the band: Perry balances science and music

(Story)

Nov 28, 2016

Guest speaker from Ithaca College to speak about Communications

(Story)

Sep 15, 2016

Artist Spotlight: Gregory Parker

(Story)

Sep 01, 2016

Editorial: The Al Neuharth Free Spirit and Journalism Conference

(Story)

Aug 02, 2016

The price to park

(Story/Media)

May 27, 2016

The ruby anniversary of rocking: Guitar Night 2016

(Story)

May 05, 2016

Bang for your buck

(Media)

Apr 21, 2016

Showing the spirit: tied up in tie-dye

(Story)

Apr 20, 2016

Showing the spirit: born in the USA

(Story/Media)

Apr 19, 2016

Showing the spirit: Tropical Tuesday

(Story)

Apr 18, 2016

Showing the spirit: Comfy celebration

(Story/Media)

Apr 16, 2016

Showing the spirit: The week ahead

(Story)

Apr 15, 2016

Showing the spirit: Penny Wars

(Story/Media)

Apr 05, 2016

From Broadway to Bach: Tri-M's annual Chamber Recital a success

(Story/Media)

Mar 29, 2016

Catalanotti swings his way to All State

(Story/Media)

Mar 24, 2016

Professional Development Days

(Story/Media)

Mar 10, 2016

A soup-er cool competition

(Story)

Feb 25, 2016

A Scholastic success

(Story)

Jan 26, 2016

In with the new (SATs, that is)

(Story)

Jan 21, 2016

The value of the vote

(Story)

Jan 07, 2016

Dealing with disappointment

(Story)

Dec 10, 2015

Incredible Improvisation

(Story/Media)

Dec 08, 2015

Snapchat Shutdown

(Story/Media)

Dec 03, 2015

All In The Family

(Story)

Oct 23, 2015

Book Nook: Popular by Maya Van Wagenen

(Story)

Oct 20, 2015

Ms. Sheehan ties the knot: Hello Robbins!

(Story)

Oct 18, 2015

Make It a Great Day or Not…

(Story)

Oct 16, 2015

Ms. Sheehan ties the knot: Hello Robbins!

(Story)

Oct 09, 2015

Nice to Meet You!

(Story/Media)

Apr 10, 2015

Zumba Club: HB's newest way to break a sweat

(Story/Media)